Bed and Breakfast in Palmer, Alaska
The rooms at our bed and breakfast are on the second floor and one must climb about 15 stairs to get to them. There is a shared breakfast nook at the top of the stairs offering teas and coffees and a place to watch the action in the arena below.
Our two shared full and half bathrooms are on the main floor of the barn. As the sunset paints the sky, enjoy a relaxing evening on the back deck overlooking the horse pastures and fields that surround our bed and breakfast rooms.
On a clear night, you can see Sleeping Lady. You may see elk or cattle meander up to the lower fence for a drink. This is truly one of the prettiest views from our ranch.
Guest Barn Bed and Breakfast
Welcome to our Guest Barn! We are absolutely excited to share this experience with you! Above our horse barn, we have 4 private guest rooms. Each decorated with its own country theme. Rooms have a full-size bed and sleep two. All rooms also include a table and chairs and shared amenities.
4 Rooms To Choose From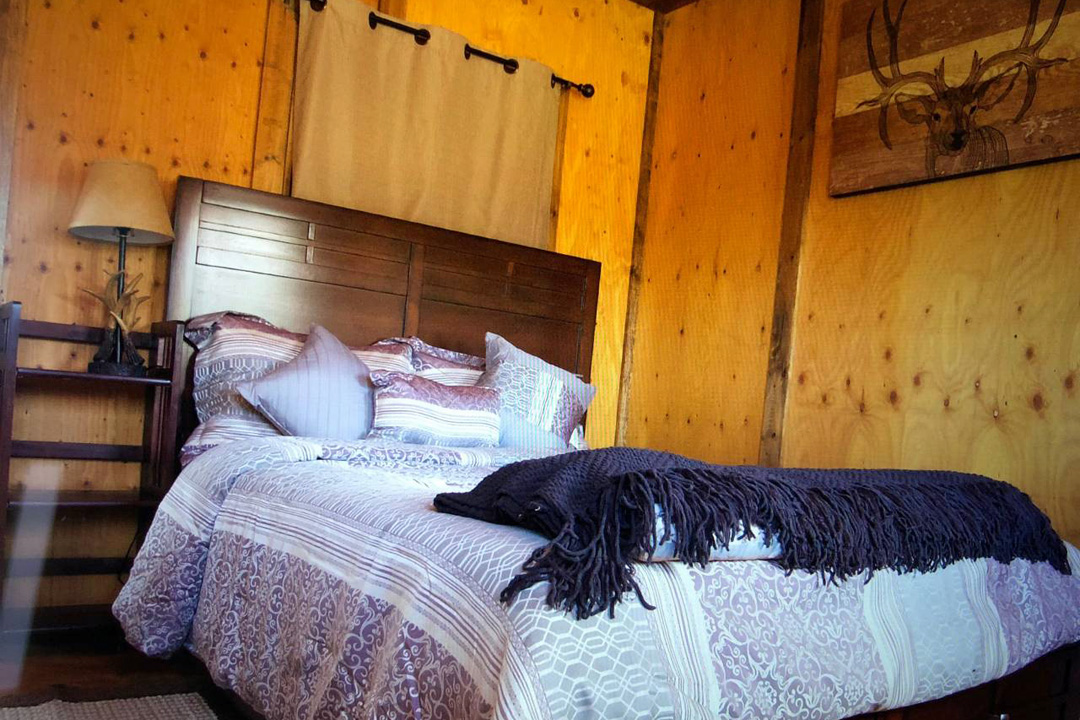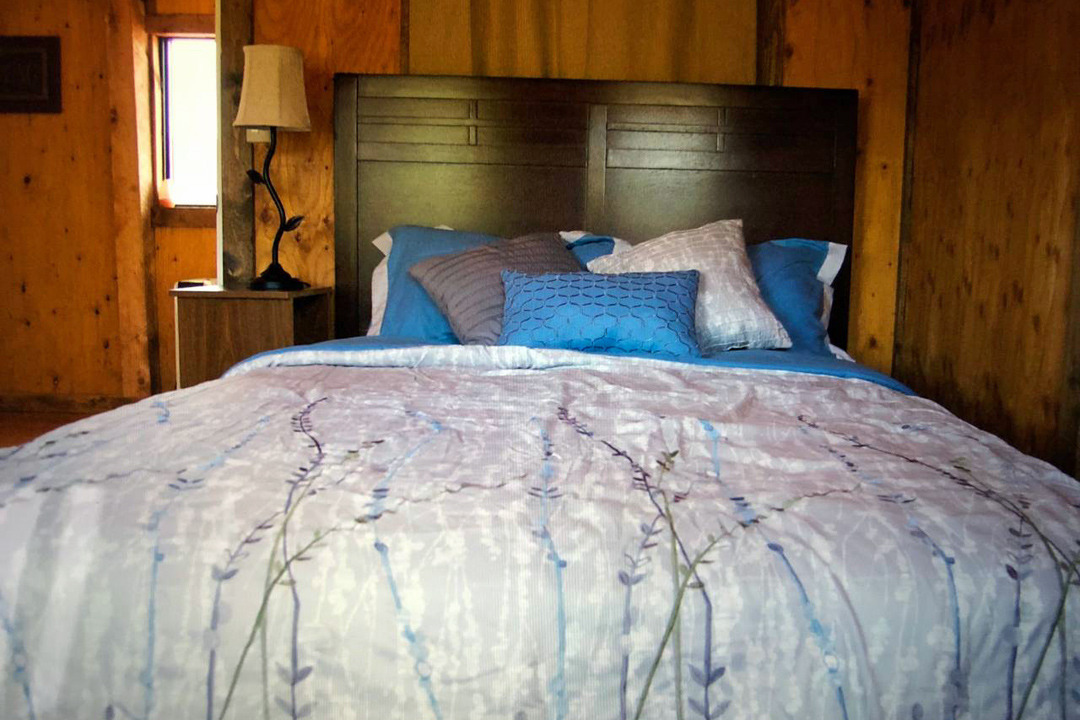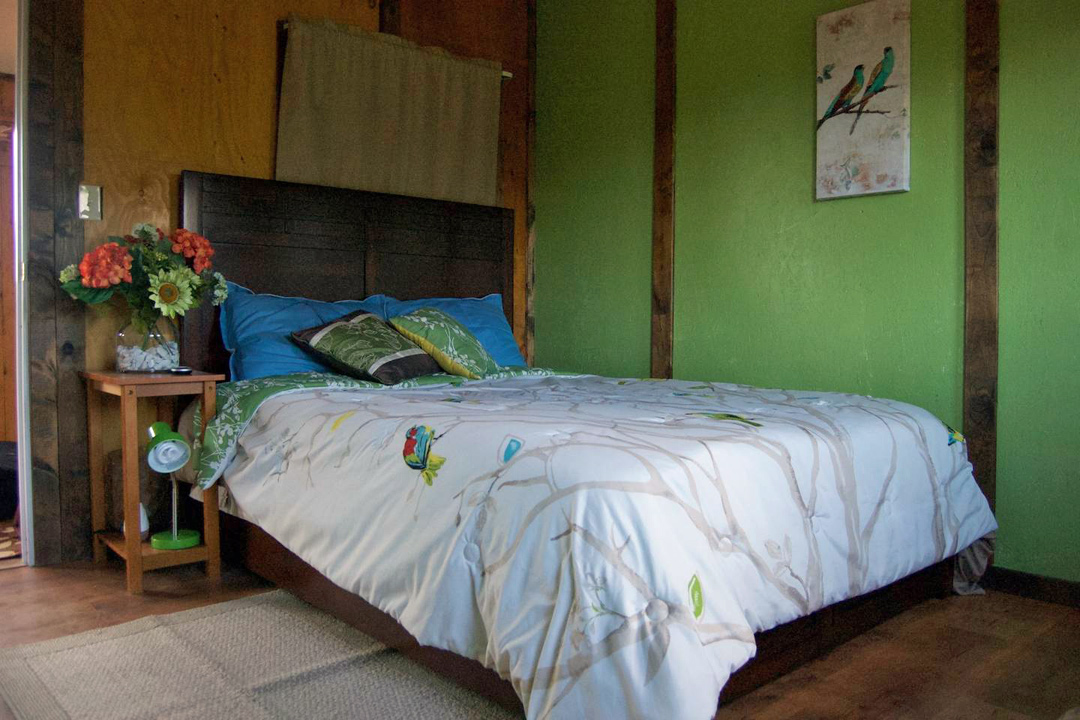 Shared Guest Amenities
All 4 cabins share these common lodge amenities.
Continental Breakfast
Shared Bathroom
Shared Kitchenette
Look Out Deck
Horse Stables
Riding Trails
WiFi Available
Outdoor Space & Fire Pit
Outdoor BBQ
Outdoor Games
Plenty of Parking Space
Close to Other Attractions
Room Details:
The Elk room and the Cowboy room are a little more rustic in décor. The Garden Room and the Bird room are dressed softer in décor.
Comfortable full-size beds and writing tables in each room make them your perfect escape for a great night's rest. Each room has a heater and fan so you can set the temperature to your individual needs.
The setting of the ranch was gorgeous! The bird room was very nice, it is right next to the breakfast nook, so if you want to sleep in you might want a room a little further away 🙂 I really wish we had time to go for a trail ride, but on short notice, Katie gave us a room and everything was awesome! Thanks Katie!

- Ashley
Lodging & Horse Riding Packages
Days At Our Ranch B&B
When you arise in the morning, grab a cup of coffee from the breakfast nook, and come see what's going on. You may get lucky enough to share the barn with a horse needing some extra attention. On our working ranch, you can plan to see action throughout each day. Whether there are horses being saddled for trail rides, tractors warming for a day of hay cutting, or our crew roaming around with coffee in hand too, there is usually action and conversation if you'd like.
Bring Your Horse With You To Our Working Ranch B&B
If you are coming with your horse, please ask us about our stall accommodations for your horse as well as scheduling some arena time. We are happy to allow you use of the round pen and arena when free. If trail riding a horse is what you fancy, let me know! We will do our best to get you scheduled for a ride. We are here to make sure you have a comfortable stay and a great adventure!
Ride Ride From Your Room
Looking for solitude, slip out to the porch or take a walk on one of the many trails on and off the property. With such a private location you will want to keep in mind bringing food along to cook on the grill or traveling back to town for supper at one of Palmer's excellent restaurants. We have a small fridge in the breakfast nook for your convenience. While in town, check out the Friday Fling, Monday Market or one of the other events taking place in our quaint town. Some of my favorite lunch and dinner spots include Turkey Red, Palmer Ale House, and Humdingers Pizza.
The ranch is exactly as you expect. It is a working ranch, which makes it all the more special to be there. Make sure to do a farm tour with Wick Sunderland. Just listening to his stories make you feel like you experienced all of Alaska. The whole family was very gracious and kind. Would love to come back soon!

- Jeremy
Legacy Lodge Retreat Center
If you are looking for all the luxuries and rustic warmth of a log home, our Legacy Lodge is the place to be. While we can sleep up to 12 people comfortably, this is also a great spot for your family weekend or anniversary getaway. Our Honeymoon suite is 600 square feet of rustic comfort. Boasting a deep soaker tub and private walk-in steam shower will leave you relaxed and ready for the comforts of the master suite. Beautifully decorated, our master with king-sized bed will ensure a great night's rest. Waking up to mountains from every angle, how can you not be excited for the day! The beauty and peacefulness are absolutely incomparable. Our spacious gourmet kitchen is a perfect gathering spot to entertain or sip hot coffee. There are 4 total bedrooms, loft sleeping, and three full bathrooms to accommodate larger parties. Our home has two kitchens, a large living room and a theater room for ultimate relaxation. Legacy Lodge can be rented as a full home, or as a home or apartment for smaller parties. With so many options, it is the perfect spot for a small retreat, wedding or family reunion.
Our home is on a private 40 acres with incredible unobstructed views of Lazy and Red Mountains. Completely private site with sweeping hay fields and gardens. Imagine white wedding tents and full seating for your ceremony of up to 100 guests.
We Can Accommodate Up To 24 Guests
We have five guest cabins with lots of space for hosting groups both small and large. We can book a group of friends, corporate retreats and families that want to get away and experience some of the best fishing Alaska has to offer. Our dry cabins have electricity, heat, unlimited WiFi and full cell phone service. Our main lodge is located just a few feet from each cabin door. The lodge houses the dining area, a fireplace sitting room and the private bathrooms and showers. Please call us to individualize these accommodations.